Tandoori Nights Bethesda
Tandoori Nights Bethesda Review: One-Trick Pony
Were I a poet I'd write an ode to the Tandoori Chicken at
Tandoori Nights
in Bethesda.
Were I a singer, I'd sing paeans to the exquisite marination of the restaurant's Tandoori Chicken.
But I'm an ordinary soul and so I shall restrict myself to mere words.
If there's an Indian restaurant that makes better Tandoori Chicken than Bethesda's Tandoori Nights, I have yet to hear of it.
I've had Tandoori Chicken at more Indian restaurants in the U.S. than I can count.
But nowhere have I come across as divine a creation as the one I found at Tandoori Nights.
Tandoori Chicken
God knows what recipe goes into the restaurant's Tandoori Chicken preparation.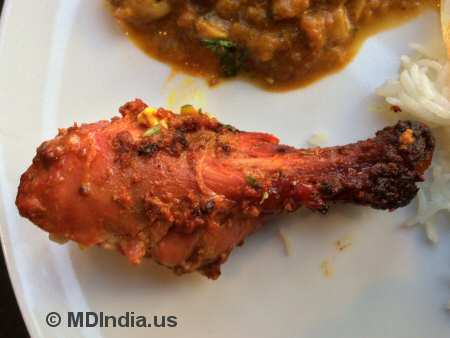 But I'm sure the recipe is a closely guarded secret, worth a ton of money!
The secret to a great Tandoori Chicken is in the marination with the right spices.
And the folks at Tandoori Nights have nailed it with the perfect flavor and spicyness!
Again and again, I returned to the buffet counter for the Tandoori Chicken!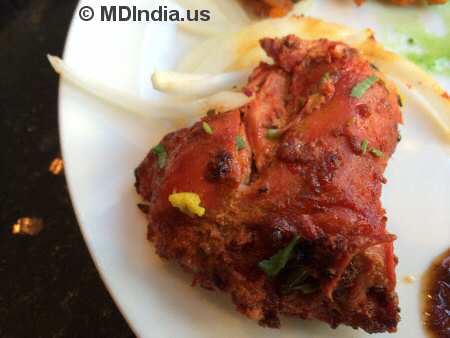 Other Items
Besides Tandoori Chicken, Tandoori Nights lunch buffet included usual suspects like Pakora, Pappad, Palak Paneer, Chicken Tikka Masala, Goat Curry, Naan Bread, Peas Pulao and Gulab Jamun.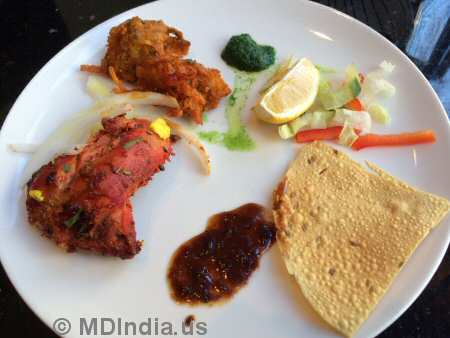 Pakora (top) Tandoori Chicken (left) Pappad (right)
Alas, if only the other items were close to the Tandoori Chicken in flavor!
Sadly, they were not even half as good.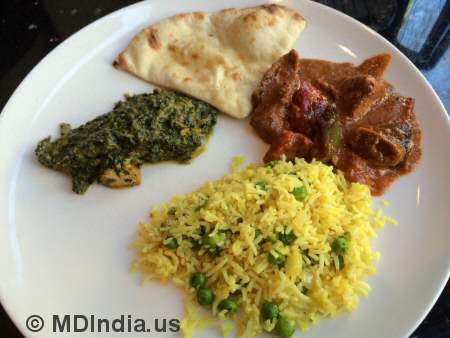 Chicken Tikka Masala (right) Palak Paneer (left) Peas Pulao (bottom)
Pakora is usually a hot and crispy delight but Tandoori Nights version was soft and barely warm on a cold day.
Chicken Tikka Masala was too sour and chicken pieces a bit hard.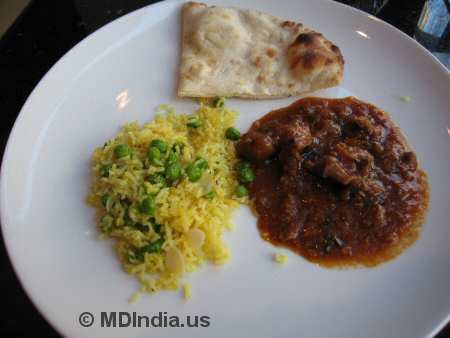 Goat Curry (right) Naan Bread (top)
Goat Curry was mildly spicy and not mucho relished by yours truly.
Palak Paneer packed little flavor and felt like eating finely ground Spinach leaves with raw Paneer cubes thrown into it.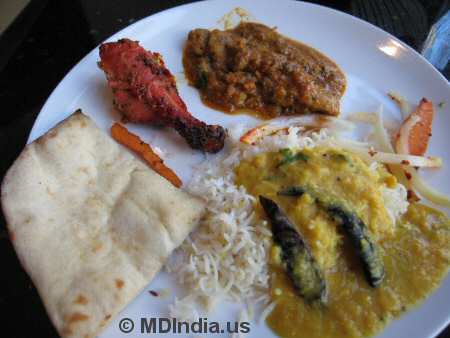 Mushroom Curry (top) Dal (bottom)
Mushroom Curry was sour with a faint hint of spices
Naan bread was alright and the good thing was that it was served fresh at the table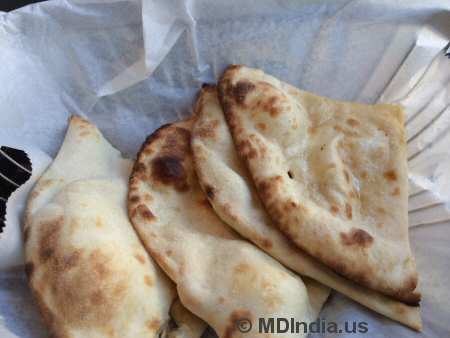 Naan Bread
Peas Pulao had no flavor except that the rice was cooked with green peas and some yellow food color (turmeric powder?)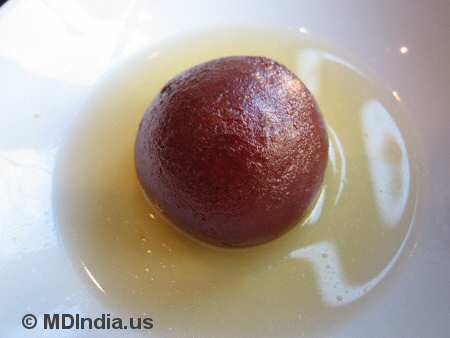 Gulab Jamun
Gulab Jamun was too soft. A good Gulab Jamun should have the right texture - Neither too soft nor too hard.
Rice Kheer came with pistachio nut toppings. It was a bit low on sweetness but still managed to delight.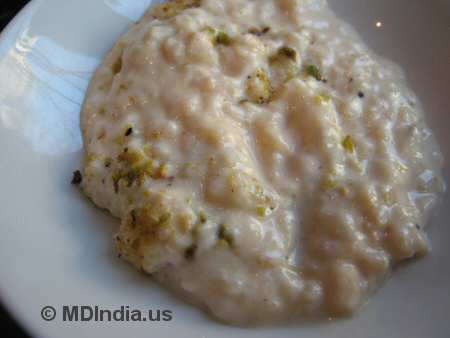 Rice Kheer
Tandoori Nights - Ambiance and Service
Tandoori Nights has a classy ambiance compared to your average Indian restaurant. I also liked the fact that the restaurant was clean.
Both Tables and dining room floor were clean.
Water glasses were filled and used plates removed without prompting.
Buffet station had ample quantity of food with labels placed for each item.
But the waiters were a weird lot. Two of them stood nearby and watched me eat.
I wondered if it was an intimidatory tactic to make me eat less. Hey, you don't know me!
Tandoori Nights Bethesda - Rating
Tandoori Nights is a one-trick pony.
Except for the heavenly Tandoori Chicken, the rest of the food I sampled at Tandori Nights turned out to be ho-hum stuff.
None of the other stuff I tasted would tempt me into returning.
But I'd commit murder for another helping of the restaurant's Tandoori Chicken.-
© MDIndia.us