Ghar-E-Kabab Silver Spring Review
Address


Ghar-E-Kabab

944 Wayne Ave
Silver Spring, MD 20910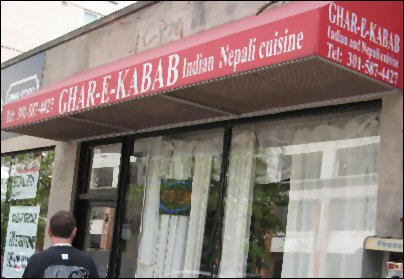 Ghar-E-Kabab Silver Spring: Trashy Outpost of Indian Cuisine
These are horrid times for lovers of Indian food in the U.S.
At every turn, it seems no effort is spared to inflict us with garbage wrapped in the deceptive garb of Indian food.
The latest offender to get us into a high dudgeon over the dismal quality of its food is Ghar-E-Kabab Indian/Nepalese restaurant in Silver Spring, MD.
Folks, on a scale of 1 (outstanding Indian food) to 10 (lousy Indian food) Ghar-E-Kabab easily scores a 11.
The food is that horrible.
After a regrettable meal at Ghar-E-Kabab, the only conclusion we could arrive at was that humans must avoid this place at all costs.
Lousy Food, Mediocre Service
As with a lot of Indian restaurants in the U.S., bad food at Ghar-E-Kabab is matched by mediocre service.
The food on the buffet table was not labeled and when we asked the waiter what the different items were he had the look of deer caught in the headlights and realizing it had a mere five seconds of life left on this planet.
He managed to recover his wits and called the chef (??) from the kitchen who mumbled something vaguely resembling human language. After two futile tries to grasp the alien-sounding language the old man was speaking, we gave up.
Horrible, Inedible Food
Now, this is no exaggeration.
Surely the dry bread and thin gruel served to prisoners at Hitler's concentration camps at Auschwitz, Treblinka and Dachau or at Stalin's Arctic Gulags in cold Siberia were orders of magnitude more flavorful and infinitely more palatable than the series of relentless assaults on our palate by the fiends at Ghar-E-Kabab.
Channa Saag was a tasteless greenish-brown mess while Alu Baingan set a new world record in a flavorless vegetarian dish. A more appropriate label for the latter would have been Plain Boiled Potato with Egg Plant.
Utterly flavorless, the medium-thick Dal was another instance of mislabeling. There's not much to be said in favor of the Pakoras or the Naan bread.
With its black pock-marks, Tandoori Chicken was a burnt atrocity leaving us in shock that one human would be so cruel to another as to serve such garbage.
Lamb Kheema Mutter was so horribly bland that we were in no doubt that the trinity of chilies/chilli powder, pepper and coriander played no part in its preparation.
Bad Rice Pudding
The
coup de grace
of our meal came in the form of Rice Pudding.
After just one spoon of the orangish Rice Pudding, we were convinced fate had played a cruel trick on us in leading us to this trashy outpost of Indian cuisine.
In utter despair, bewailing our fate and hurling silent obscenities at the Gods above and the bozos below (in Ghar-E-Kabab's kitchen), we drifted out into the quiet Wayne Ave of Silver Spring, MD. -
© MDIndia.us
Nearby Indian Restaurants
Woodlands Langley Park - Spoiled, Crappy Indian Food; Dirty Plates
Tiffin Takoma Park - Disappointing Indian Food, Poor Service