Shangri-La Bethesda Review
Address


Shangri-La

7345A Wisconsin Ave
Bethesda, MD 20814


Shangri-La Bethesda Review: Awful Indian Food
In recent months, I cannot think of any Indian restaurant that has distressed me as much as
Shangri-La
in Bethesda.
How this unworthy Indian restaurant continues to exist is a mystery known but to God!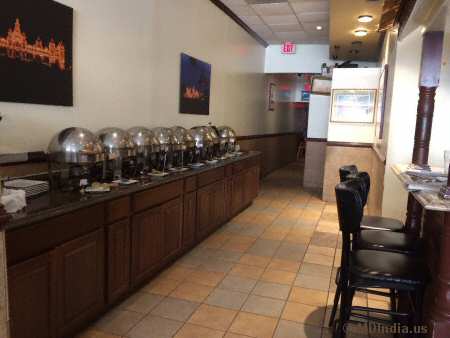 Buffet Counter
Like most Bethesda Indian restaurants,
Shangri-La
offers an all-you-can-eat buffet for $9.99 during lunch.
I find it impossible to resist an Indian buffet and before you can say "Bethesda" I found myself inside the restaurant.
During my visit, the restaurant had about 8-10 people.
Appetizers
It's hard to find an Indian buffet in the U.S. without Tandoori Chicken.
Ditto with Shangri-La too.
Tandoori Chicken had a smoky flavor, I will grant you that.
But it had none of the appeal, either in looks or taste of the Tandoori Chicken from the nearby
Tandoori Nights
.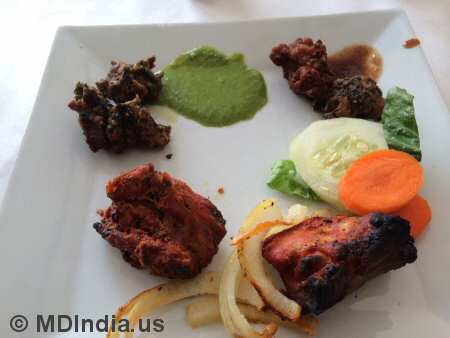 Pakora (top) Tandoori Chicken (bottom)
Pakoras at most Indian restaurants are an utter waste of time.
Tasteless monstrosities that serve no purpose!
And it was the same at Shangri-La.
If I had my way, I'd ban pakoras of the menus of all Indian restaurants.
Entrees
Chicken Curry was so bland that I wondered what sin I had committed to taste such horrid stuff.
A good Chicken Curry is a spicy delight.
Must be my bad
Karma
, I consoled myself.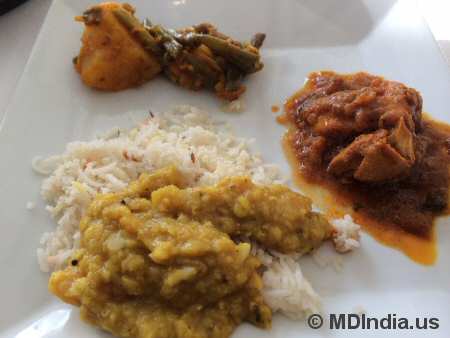 Alu Green Beans (top) Chicken Curry (right) Dal (bottom)
Alu Green Beans included finely cooked Potato and French Beans.
That's all I can say in its favor.
Nothing distinguishing about it.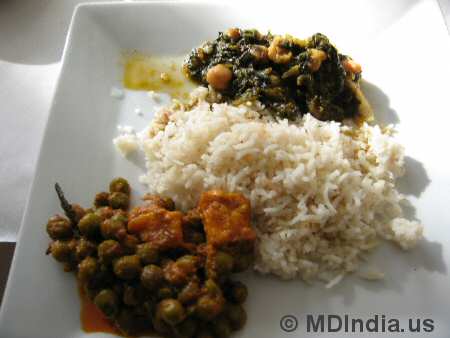 Tofu Green Peas (bottom), Saag Channa (top)
Green Peas in Tofu Green Peas were so raw making me wonder whether it was cooked at all.
Channa Saag was a watery flavorless green color mess.
Dal was nothing but finely boiled yellow lentils sans any seasoning or flavor.
An Indian restaurant that can't get the commonplace Dal right is a disgrace and has no reason to exist.
Naan Bread and Rice
Naan bread was served piping hot at the table and was not bad.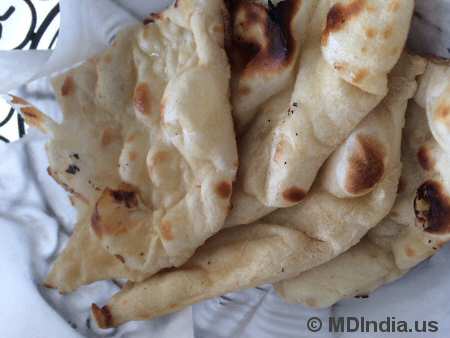 Naan Bread
Basmati rice with jeera seasoning was alright.
But it'd take a mighty special effort to screw up White Rice, right?
Desserts
Rice Kheer was the sole dessert and it was lousy.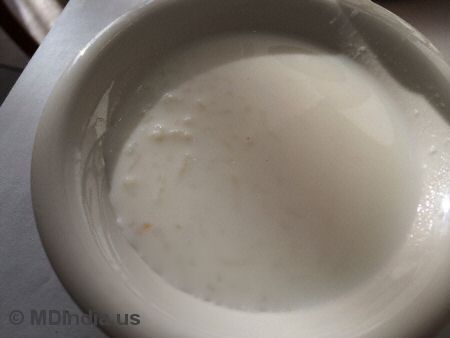 Rice Kheer
It was so low on sweetness that I wondered whether there was shortage of sugar at Shangri La.
Shangri-La Bethesda Rating
There were no spoons/forks on my table and I had to grab them from an adjacent table. If you have a passionate love affair with Indian food like me, I recommend you run from
Shangri La
.
May the Lord strike me down if I visit Shangri-La any time soon.
Life is too short to be wasted on crappy Indian food! -
© MDIndia.us