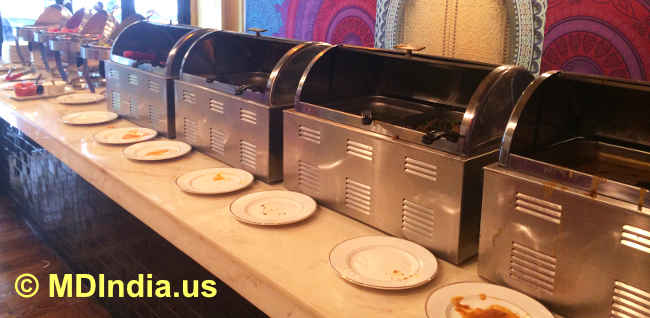 When it comes to Indian lunch buffets, Baltimore offers decent choice.
North Indian, South Indian, Nepali and Himalayan lunch buffets are all available at Baltimore Indian restaurants.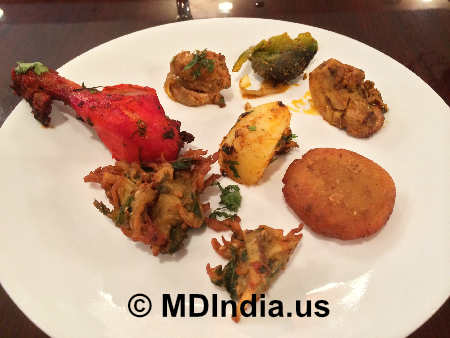 Indian lunch buffets usually include about 15-20 items from chicken, meat, vegetarian appetizers, seafood, lamb entrees, rice dishes, naan bread to desserts.
Buffet Ideal Option
Whether you're a new to Indian cuisine or a veteran, buffet is your ideal option.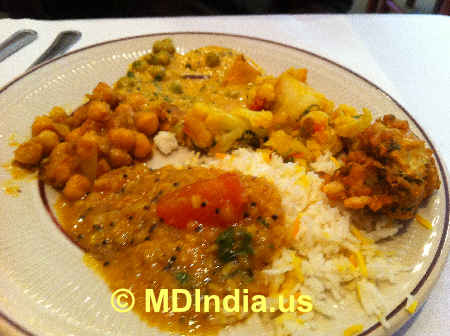 For an Indian buffet gives you a choice to taste a variety of items for a fixed reasonable price.
Some of the common items that come as part of Indian lunch buffets are appetizers like Samosa, Tandoori Chicken, cut Mirchi plus entrees such as Chicken Tikka Masala, Alu Mutter, Kadi Pakora, Mixed Vegetable Curry, Navratan Kurma, Baingan Alu, Goat Curry, Dal Makhani entrees, Gulab Jamun, Gajar Halwa, Rice Pudding, Fruit Custard desserts and naan bread and rice dishes.
Indian lunch buffets usually costs from $8.99 to $10.99 during weekdays.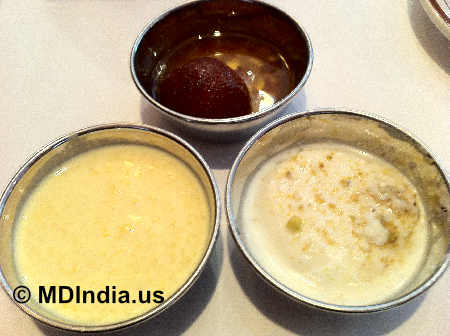 And the buffet price goes upto $14.99 during weekends.
Akbar

823 N Charles St
Baltimore, MD 21201


Ph: 410-539-0944

Lunch Buffet:
Mon-Fri: 11:30AM-2:30PM
Sat & Sun: 12PM-3PM



Ambassador Dining Room

3811 Canterbury Rd
Baltimore, MD 21218


Ph: 410-366-1484

Lunch Buffet:
Mon-Fri: 11:30AM-2:30PM
Sat & Sun: 12PM-3PM



Darbar

1911 Aliceanna St
Baltimore, MD 21231


Ph: 410-563-8008

Lunch Buffet:
Mon-Fri: 11:30AM-2:30PM
Sat & Sun: 12PM-3PM



Indigma

801 N Charles St
Baltimore, MD 21201


Ph: 410-547-1600

Lunch Buffet:
Mon-Fri: 11:30AM-2:30PM
Sat & Sun: 12PM-3PM



Lumbini

322 N Charles St
Baltimore, MD 21201


Ph: 410-244-5556

Lunch Buffet:
Mon-Sat: 11AM-2:30PM
Sun: 12PM-3PM



Masala Kitchen

3105 St Paul St
Baltimore, MD 21218


Ph: 410-235-1004

Daily Lunch Buffet:
11:30AM-3PM




Mem Sahib

400 W Lexington St
Baltimore, MD 21201


Ph: 410-576-7777

Lunch Buffet:
Mon-Fri: 11:30AM-2:30PM



Namaste

413 W Cold Spring Lane
Baltimore, MD 21210


Ph: 410-889-2233

Lunch Buffet:
Tue-Fri: 11AM-2:30PM
Sat & Sun: 12PM-3PM



Kumari

911 N Charles St
Baltimore, MD 21201


Ph: 410-547-1600

Indian/Nepali Lunch Buffet