Maryland Indian Wedding & Bridal Jewelry
Indian Craze for Gold
Indians have an unusual obsession for gold.
The very mention of the precious metal sends their pulse racing.
Indians in the U.S. are no different from their family members in
Mera Bharat Mahaan
in their fondness to buy and hoard gold.
Whether it's to deck themselves with gold or hoard it for their daughters' wedding or for a rainy day, the
desi
craving for gold shows no sign of slowing down.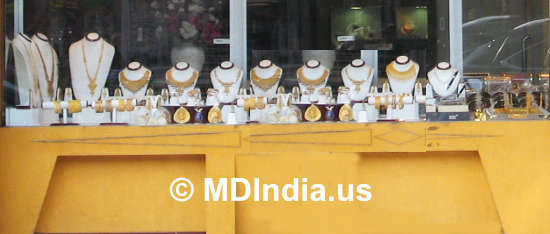 To pander to the Indian obsession for gold, beads and diamonds, several jewelers have set up shop in New Jersey, New York and even Maryland.
Rockville & Baltimore Gold Jewelry Stores
Rockville & Baltimore are home to a couple of Indian jewelry stores.
These Indian jewelry stores sell gold biscuits and variety of necklaces, bracelets, anklets, beads, gemstones and silver jewelry.
Some Indian jewelers even peddle idols of Hindu Gods like Ganesha and astrological stones.
Weekends are usually the busiest times for Indian jewelers, as Indian women alight from their BMWs, Mercedes Benz and Avalons to purchase glittering ornaments for weddings and other festive occasions.
Gold City Jewelers

451 Hungerford Dr #107
Rockville, MD 20850


Ph: 301-838-8888

Chan Oriental & Indian Imports

5504 Park Heights Avenue
Baltimore, MD 21215


Ph: 443-616-7743